The transversal programme is intended for doctoral candidates enrolled in any of the CUSO doctoral programmes. It offers a diverse range of workshops to help you develop your generic skills - the skills that will be essential for your doctoral studies, but above all to best prepare for your entry into the professional world.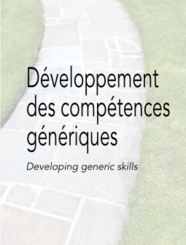 The programme offer is in two categories:
Workshops offered directly by the CUSO and detailed on these pages (click on the Activities link).
Activities organised by other services or institutions, such as the RCFE workshops which provide training in teaching skills development (Réseau romand de conseil, formation et évaluation: rcfe.epfl.ch/page77718.html) and the REGARD workshops (intended specifically for women in academia: www.unifr.ch). Please note these links are provided for your information only and the

CUSO accepts no responsibility with respect to these activities

.
Download our course brochure.
Steering Group
Prof Bastien Chopard, UNIGE
Prof Corinne Rossari, UNINE
Prof Olivier Graefe, UNIFR
Prof Ian Sanders, UNIL
Ms Marie-Paule Haefliger, UNIFR
Ms Najate Zouggari, UNIL
Ms Wafa Kooli, UNINE
Dr Thomas Kadelbach, UNINE
Dr Marie Lambert, UNIFR
Dr Mallory Schaub-Geley, UNIGE
Dr Emmanuel Sylvestre, UNIL