IMPORTANT: coronavirus epidemic
The COVID-19 epidemic is far from over. Depending on the evolution of the situation and health requirements, the organisation of activities is likely to change. In any case, we will ensure that the health requirements are respected, for the safety of all. Thank you for your understanding and collaboration.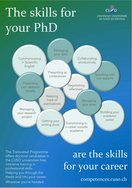 The transversal programme is intended for doctoral candidates enrolled in any of the CUSO doctoral programmes. It offers a diverse range of workshops to help you develop your transferable skills - the skills that will be essential for your doctoral studies, but above all to best prepare for your entry into the professional world. Our Modules page explains the themes of our workshops in greater detail. On our Activities and Previous Activities pages, you will find the descriptions and registration links for workshops offered in the current semester (January-June, August-December). The Resources page provides links to training organised by other services or institutions, as well as other sites of use for your professional development. If you have any questions, please check first on our FAQ!
Have your say! Would you like to take part in the development of the transversal programme? Doctoral candidates form an essential part of our steering group and we'd be happy to welcome you as a member. Please contact us.
Steering Group
Prof Bastien Chopard, UNIGE

Prof Olivier Graefe, UNIFR

Prof Corinne Rossari, UNINE

Prof Ian Sanders, UNIL
Ms Liliane Céleste Broye, UNIL

Ms Loanne Janin, UNINE

Ms Frédérique Leresche, UNIGE

Mr Simon Thuillard, UNIFR
Dr Marika Fenley, UNINE

Dr Marie Altermatt-Lambert, UNIFR

Dr Mallory Schaub-Geley, UNIGE

Dr Emmanuel Sylvestre, UNIL